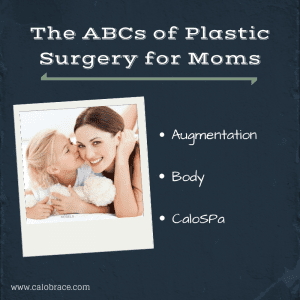 Mother's Day has special meaning to me because many of the women I meet who are searching for plastic surgeons  in Louisville happen to be moms — and awesome moms at that. We've met because they reached a point in their lives where they wanted to take a little time out for themselves to rejuvenate their appearance. It's always an exciting journey to take together because I learn so much about the person along the way, and I also often get to meet their beautiful families. Here are some of the top procedures and services we offer to our clients who are mothers.
"A" is for Augmentation
When it comes to patient satisfaction, breast augmentation is at the top of the list. It's no wonder there has been a 210% increase in the number of breast augmentation procedures performed in this country since 1997, according to statistics compiled by the American Society for Aesthetic Plastic Surgery. Moms in particular request a natural-looking result to feel appropriate on both date night and at the playground. Our mommy patients are most excited about Silimed implants from Sientra®, which are made out of silicone gel that feels and looks like real breast tissue.
"B" is for Body
We know your body didn't go anywhere when you had children, and we understand that you're not trying to "get it back." Many moms simply wish to enhance the amazing post-baby body that allowed them to experience the joys of pregnancy and childbirth. For these moms, tummy tuck surgery is a popular choice. This procedure can reshape the stomach area for a better look that more closely resembles their pre-pregnancy shape.
"C" is for CaloSpa
I believe every mom deserves a day at the spa every now and then. Our medical spa happens to provide one of the largest selections of advanced treatments available in the country for meeting your rejuvenation goals, including BOTOX® Cosmetic, laser hair removal, and CoolSculpting®.
Surprise the mom in your life or treat yourself with a gift card to CaloSpa. Just in time for Mother's Day, clients who purchase a $100 gift card will receive an extra $20 CaloCard. Contact us here for details.