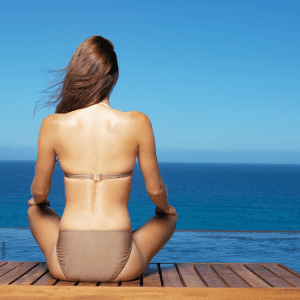 Many women desire larger breasts in the summer, whether they hope to better "fill out" their favorite bathing suit or to simply feel more confident in a dress. What you may not realize is many women also long for smaller breasts during these next couple of months. They feel exposed or just plain uncomfortable. Along with my breast augmentation patients in Louisville, KY, I work with both women and men who opt for breast reduction surgery. In my experience, this procedure can result in some of the highest patient satisfaction possible.
If you are considering breast reduction, you likely have many questions. Here are a few of the most common questions I hear from others in your shoes:
What is breast reduction surgery? Breast reduction surgery is also known as reduction mammoplasty. It is the process of removing excess fat, tissue, and skin from the breasts in order to achieve a more proportionate breast size. Most importantly, breast reduction surgery helps women and men to lead more comfortable and happy lives. Techniques for breast reduction surgery vary and depend on your unique condition and aesthetic preference.
Will health insurance help with my costs? It many cases, it can. Depending on your situation and coverage, insurance may reimburse you for part, or even all, of this procedure if you are experiencing physical pain in your shoulders or back from overly large breasts. My staff is happy to file documents to help you receive this reimbursement, should you qualify. Keep in mind, you will still be responsible for the full amount of your procedure during this process.
How soon will I see results? My patients are happy to learn that results from breast reduction surgery are visible immediately and only improve as post-surgical swelling fades. Both women and men who have had this procedure tell me they've never been happier and that they only wish they'd done it sooner.
If you'd like to discuss your options in person, I invite you to contact our office to request a consultation.