"I want to look natural."
That's one of the most common requests I hear during consultations with my breast augmentation patients at our practice in Louisville and Lexington, KY. Patients want their breasts to look larger, fuller, more feminine, or perkier—but definitely not fake.
To put my patients at ease that my goal is always to produce a beautiful result that suits their frame, I walk them through a list of factors that ultimately affect how subtle or dramatic their outcome will be. Together, we discuss their priorities, then I make my recommendation to create the results they desire. Here are a few of the factors that can influence how results will appear and feel more or less natural.
Implant Material
There are 2 popular types of breast implants available: saline and silicone. Saline implants are made of a soft yet strong silicone shell and filled with a liquid saline solution. The viscosity of saline is much like water, so you can imagine it feels something like a thick plastic bag filled with liquid.
Silicone implants are filled with a cohesive silicone gel. They're also malleable and soft, but many patients believe these feel more like natural breast tissue than saline implants. I prefer to use silicone gel implants from Sientra®. This brand is available only to board-certified plastic surgeons, and the implants come not just in different sizes, but also different shapes. Learn why we love this type of implant in this previous blog post.
Implant Placement
Breast implants can either be placed over the chest muscles or under them. Some surgeons and patients believe that implants look most natural when they're placed underneath the pectoral muscle, particularly for women who have little existing breast tissue with which to camouflage the implants. However, your surgeon will help you determine which placement is best for your body type, lifestyle, and the results you desire.
Implant Shape
The Sientra implants we prefer at CaloAesthetics Plastic Surgery Center are available in both round and "shaped" forms. The round options come in several different levels of projection from low to high, and they offer more fullness at the top and more cleavage.
The shaped implants, also called teardrop-shaped or anatomical implants, come in 3 different bases and a variety of projections. They have more volume at the bottom, creating a somewhat more natural shape. This diverse range of options allows us to provide patients with an implant choice that suits each woman's unique frame.
Implant Size
Breast implants are measured in cubic centimeters, or cc, and come in a wide range of sizes. When choosing a size, consider the amount of existing breast tissue you have and what you want your results to look like. A 300 cc implant may look completely different on one patient than it does on another. Our VECTRA® 3-D imaging software can give patients an on-screen visual representation of what they will look like with different-sized implants, so you can choose the most natural-looking option for your body type that still gives you the size boost you want.
Breast Augmentation Surgeon
When it comes to getting natural-looking results, the surgeon you choose to perform your augmentation is equally important as your surgical options. When evaluating surgeons, consider their education, experience, and training. Additionally, take a look through their before-and-after photos to see whether you like the results of their patients who have a similar body shape as you. Once you've found a qualified doctor, schedule an in-person consultation with them to determine whether you feel they're the right surgeon for you.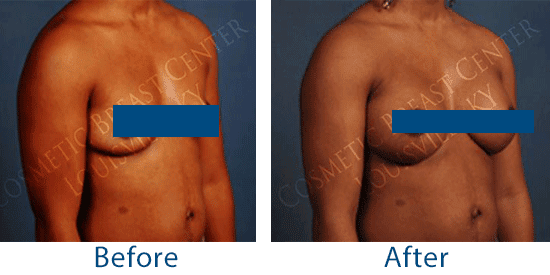 After looking over all those different factors, you may feel a little overwhelmed—but don't worry! As a qualified surgeon, it's my job to help guide your decisions step by step, using all my experience to find you the perfect fit for your body and your goals.
If you're interested in learning more about breast augmentation with implants here in Louisville and Lexington, KY, request a consultation online or call (502) 899-9979. Our experienced staff is here to help you begin your own plastic surgery journey.