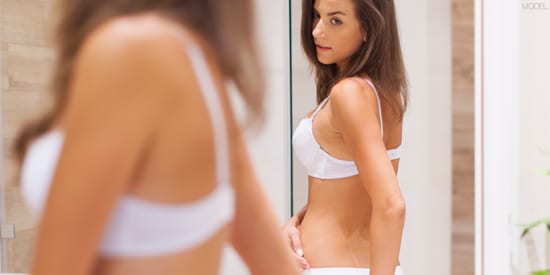 Here at CaloAesthetics Plastic Surgery Center, body contouring options are so much more diverse than liposuction. Our Louisville patients enjoy a wide array of choices to fit their individual needs, whether it's reducing a small area of fat with minimal downtime or a more intensive transformation of multiple parts of the body.
If you're researching a body contouring procedure, we recommend asking the 5 following questions as a good starting point during a consultation. Here, we'll review the answers to each question as they apply to some of our most popular body contouring procedures — both surgical and non-surgical.
1. How long does it take?
Learning how long a procedure takes to complete can help you plan your time and decide whether a procedure jibes with your lifestyle. For example, a tummy tuck can require that you be under general anesthesia for 2 or 3 hours. On the other hand, CoolSculpting®, a non-invasive procedure that's performed in-office, typically takes only an hour per treatment area.
2. How dramatic are the results?
Of course, good results from any aesthetic procedure are paramount, so learning exactly what kind of results you can expect from each option can help you narrow down your choices. Liposuction and its variations, including SAFELipo®, remove fat from a specific area of the body. Although these procedures aren't ideal for large-volume fat reduction, they're excellent for "spot reducing" some of our patients' most stubborn bulges. On the other hand, tummy tuck surgery removes excess skin and tightens muscles in addition to reducing fat, creating a deep improvement across various layers of the abdomen. Combining treatments such as a tummy tuck, liposuction, and a thigh lift would of course be a more significant transformation. How dramatic the results are is really up to you.
3. Can body contouring treatments tighten skin?
In general, liposuction has not been shown to be effective at tightening skin. However, treatments that use light, heat, or other forms of energy, such as ThermiRF™, are specifically intended to tighten skin. ThermiRF, previously known as Symphony RF™, can be used all over the body, from loose skin along the jawline to the backs of the arms and more. And of course, a tummy tuck and other "lift" procedures (breast lift and thigh lift, for example) remove excess skin for a taut contour.
4. What is the recovery time?
Giving yourself enough time to recuperate safely at home is tantamount to getting a good result. Fortunately, non-invasive procedures including CoolSculpting and ThermiRF don't require any sort of rest at home. Although you may feel some soreness, there's no medical reason to avoid any of your favorite activities afterwards. On the other hand, more significant surgical procedures such as tummy tuck can necessitate 1 to 2 weeks of rest and restricted activity at home.
5. How long do the results last?
Although no cosmetic procedure can completely stop the aging process, some slow it down quite a bit. Due to the nature of fat, cells that are removed from the body (in procedures such as CoolSculpting and liposuction) will never return. The results of skin tightening procedures and surgery can last for many years, although results can vary depending on the significance of your procedure, your age, and other factors. In any case, maintaining a steady weight and practicing healthy diet and exercise habits after your procedure are the best ways to maintain your results for as long as possible.
Of course, the person to whom you're asking these questions matters as much as the answers. By talking to a board-certified plastic surgeon who has ample experience with body contouring, you can ensure you're getting the expertise you need to choose the perfect procedure for you.