Article Credit: StyleBlueprint LouisvilleFor people who use Obagi products, there is no going back to regular skin care. It is a miracle worker of sorts for all skin types.
Did you know that Dr. Zein Obagi, founder of the Obagi skin care line, actually sold the Obagi line and all the rights to it years ago? He has since created a new business called ZO Skin Health, with two lines: ZO Medical Products and ZO Skin Health products. ZO Medical products may only be distributed through a physician. ZO Skin Health line is the "over the counter" version. Both lines will be sold at CaloSpa® exclusively.
As part of his introduction of these new lines, Dr. Obagi will be speaking in Louisville on September 6 at the Louisville Palace, hosted by CaloSpa® Rejuvenation Center. The event, called Beverly Hills in the Ville, will start at 5:30pm with cocktails and then the lecture at 6 pm. First, Dr. Obagi will speak about his new products, followed by Dr. Bradley Calobrace from CaloSpa® Rejuvenation Center. After the talk, guests can enjoy music, wine and champagne, and appetizers from Wiltshire Pantry. ZO products will be discounted 25% that night only for patrons.
Tickets for the event are regularly $40, but Calospa will offer them for a discounted rate of $25 if you mention StyleBlueprint during purchase. Call (502) 814-3000 to purchase your tickets or visit their website by clicking here.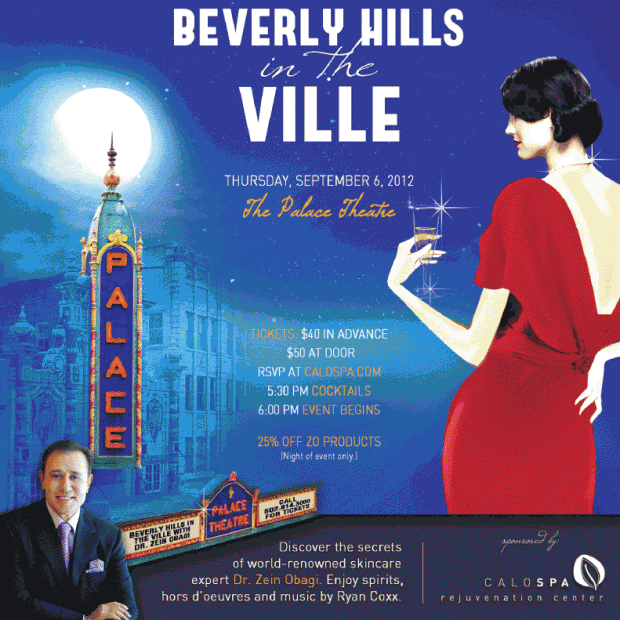 I was fortunate to interview Dr. Obagi before his visit here. I wanted to find out more about his new lines and about him. Here is my interview: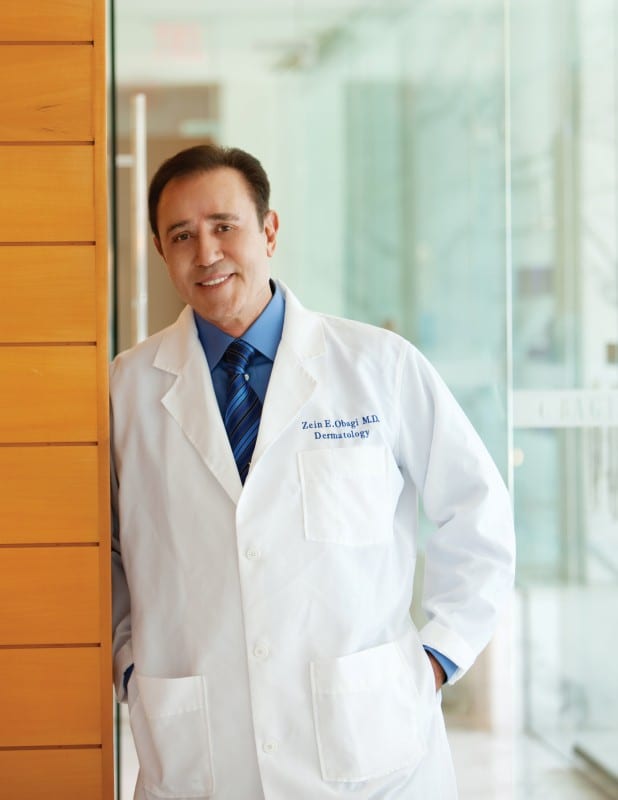 We are excited to hear you speak in Louisville next month. What will you be discussing?
Over twenty years ago I created the concept of skin health science and the definition of healthy skin and introduced products and treatment protocols that represented my thinking at that time that would help physicians to treat and obtain better results in their practices. Since then, I have engaged in extensive research to update my original thinking and implement new ideas that I have learned. I have expanded the concept of treatment protocols to involve a much larger population in the benefits of skin health principles that can be used as daily skin care and prevention. By doing so, I have fulfilled my dream of creating a complete skin health circle that addresses both a medical line of products and a non-medical line.
I will be discussing in Louisville the skin health science, its ability to resolve a wide variety of skin disorders, when medical products are needed, and the preventive products when prevention is desired.
Topics will include lasers, chemical peels, fillers, Botox applications and what is new, and the prevention concept that can be used to prevent skin aging, acne, scars, stretch marks, sun damage, skin cancer, and looking younger forever (early treatments and prevention).
My topics will also address important tips on diet, and clarify a lot of erroneous concepts (myths) about skin care and cosmetic procedures.
What do you think differentiates your products from other skin health products on the market?
The terms skin health, healthy skin, and skin health restoration were created by me in 1983. Prior to 1983, these terms were unknown. However, since my initial introduction and usage of these terms in my teaching and in my book, many companies start to use them, even if a product can't even be used to restore skin health. The definition of skin health that I created describes healthy skin as skin that is (naturally without any camouflage) smooth, even in color, firm and tight, hydrated, tolerant and free of disease.
To achieve that level of skin health, products should be specially formulated and contain ingredients that work at the cellular level to improve and activate cellular functions.
Most products on the market (any other brand) address only the skin's surface and have very limited benefits (too many false claims without any scientific support to those claims).
What is the difference between the ZO® Medical and ZO® Skin Health product lines?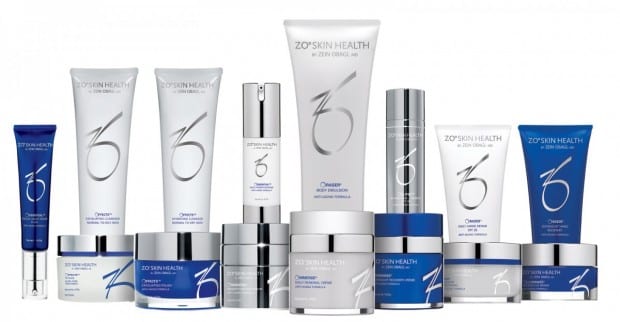 Full group of new products.
When it comes to the usage of meaningful daily skin care and prevention, ZO® Skin Health is adequate in providing skin with the tools to maintain skin health and prevent skin deterioration, and for this reason, a larger segment of the population will enjoy these benefits.
As for those who have medical problems (skin diseases) ZO® Medical is needed, as certain topical agents are needed for proper treatment. Patients need to use ZO® Medical under physician supervision, and when treatment is completed, ZO® Medical or ZO® Skin Health can be used as maintenance after stopping the medical components.
What is the best way to start on your skin health regime, other than getting a personal appointment with you in Beverly Hills?
I have established an innovative approach to disease–free skin, for daily skin care and prevention. The current approach for skin care (any other brand) depends on the blind purchase of products based on marketing and advertisement (by a company) without knowing the following:
Skin type (oily or dry)
Skin needs (repair, correction, or stimulation). This approach may harm skin (irritation, sensitivity) or create dependency (skin weakness)
ZO® Skin Health is the ideal approach to skin care and prevention. It will provide skin with the right tools that enable skin to remain active and renew itself. This approach is simple to follow by anyone. ZO® Skin Health helps to restore and maintain skin health:
Here are the steps for basic skin care.
First we normalize the skin with cleansing morning and night. Oily skin will use Offects® Exfoliating Cleanser and dry skin will use Offects® Hydrating Cleanser. After cleansing (but only once daily), then the client uses Offects® Exfoliating Polish to smooth the skin's surface and for mechanical stimulation. The next step for oily skin only is reducing sebum (oil on skin surface) with Offects® TE-Pads, used both morning and night.
After that, the skin is strengthened and repaired with Vitamin A +antioxidants using the Ossential® Daily Power Defense in the morning only. At night, this step is substituted with the Ossential® Growth Factor Serum which renews and stimulates skin with anti-aging, anti-inflammatory ingredients and Vitamin A.
Sun protection is the last step in the mornings with Oclipse® Sunscreen + Primer SPF 30. This sunscreen has physical blockers, antioxidants and melanin.
Everyone can get the basic skin care program from a location near them (zoskinhealth.com, physician's office, med-spa or an authorized retail location). [Note: this is Calospa here in Louisville]
Is there a way to "turn back the clock" with your products?
Turning back the clock is definitely possible and I strongly believe that we can keep people looking young indefinitely. To do so, here's my advice:
Start aging prevention early (age 25-30). At this age, the cells that make collagen, elastin and water capturing agents go to sleep, and the existing elements (these substances) are consumed without replacement, leading to the appearance of wrinkles and skin becomes loose (laxity).
Start activating these cells – we can wake them up and resume production of all these elements. The essence is to use active vitamin A (retinol) in proper concentration, amount and formulation (not many products that contain retinol fulfill these criteria). ZO® Skin Health products provide two heroes that achieve this:

For the mild approach (Prevention): Growth Factor Serum which contains retinol, peptides, growth factors and anti-inflammatory agents is highly recommended for skin aging prevention and is mild, comfortable and well-tolerated.
For the strong approach (Correction): Ossential® Radical Night Repair Plus contains a potent 1.0% retinol – six times the industry average to reduce wrinkles, even skin tone and restore elasticity.
Most anti-aging products on the market are not scientifically proven for efficacy (they contain trace amounts of key ingredients, with weak penetration) and depend only on temporary improvement by hydrating the skin's surface.
What is the number one mistake women are making with regard to their skin health?
Buying products blindly, based on advertisement. Most current skin care products are moisturizers (plain moisturizers or moisturizers with a twist to claim any unproven properties – anti-aging or whitening). My studies showed that using moisturizers daily on the face will lead to a weak and sensitive skin that will age faster. Consumers are easily drawn to moisturizers due to their good feeling upon initial application, its scent, the brand and packaging.
A person who must use moisturizers should first use the products that provide correction, stimulation, and renewal, and if they still feel dry, then hydrating and calming creams can be applied.
I see that you are not a big proponent of moisturizers. Can you explain why you think they are ineffective?
Moisturizers on skin surface create a problem on two fronts:
Weaken the barrier function (making skin sensitive and weak) due to the disturbance of natural water/lipids/proteins that exist in the skin, and stop the natural delivery of water and nutrients from the body to skin leading to dehydration.
False (acquired) dryness and addiction
Slows down cellular activity (renewal) that accelerates skin aging in the long-term. (Men and children do not use moisturizer and almost never complain of skin sensitivity or dryness).
How important is retinol in your skin health regimen?
Retinol is the essence of life for every skin cell and it works directly on the nucleus (DNA) that activates and stimulates cellular activity and strengthens the skin. Retinol is easily deactivated by moisturizing formulas. The higher the concentration the more effective it becomes; however, the right concentration can be irritating (making it not very popular). ZO® Medical and ZO® Skin Health incorporate retinol in unique formulations that are extremely effective. ZO® Medical and ZO® Skin Health also contain the highest concentrations of retinol to fight aging, compared to other brands that contain retinol formulations that are very weak.
When did you start becoming interested in skin?
I became interested in skin when I was a teenager. I witnessed my sister healing from a third-degree burn that left her with scars and nobody was able to help her, and also from observing many of my friends who suffered from acne and acne scars that made their lives miserable. I decided then that I would be a dermatologist. The desire was enforced by seeing many skin cancers (that can't be prevented), surgeries and the deformity induced by accidents and wars while I was in the US Navy.
Did you have skin issues yourself when you were younger?
I have very good skin and I look much younger from other people my age (thanks to skin health products that I continue to use).
What is your personal skin care regimen entail?
My personal skin care regimen is designed to provide a simple skin care and preventive program:
I wash my face twice daily: ZO® Medical Oilacleanse™
I scrub once a day: ZO® Skin Health Offects® Exfoliating Polish
I reduce skin oil from the surface: ZO® Medical Cebatrol™
To strengthen skin and repair DNA: ZO® Skin Health Ossential® Daily Power Defense
Sun protection when out in the sun: ZO® Skin Health Oclipse® Sunscreen + Primer SPF 30
What is something people would be surprised to know about you?
That I look 45-50 years old, while in fact I am 69 years old! I am an artist (drawing and painting), and I can lecture for two days without getting tired.
What are your interests outside of skin care?
I love to read, listen to music, watch sports and travel.